Champions of Innovation
Incoming Student wins exhibition pitch award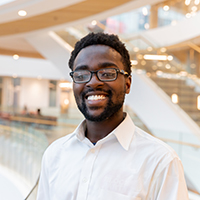 Incoming ETIM student and James R. Swartz Entrepreneurial Fellow, Kwaku Jyamfi (CEE/ETIM dual degree), has won the exhibiton pitch at the 2018 TransTech Energy Business Development Conference. The Trans Tech exhibition pitch allowed energy-oriented companies who were not in the final heat a chance to pitch their idea in front of investors in 4 minutes or less.
Jyamfi pitched a solution to a problem that 1.2 billion people across the world face: energy insecurity. Many communities don't have access to electricity produced by technology, yet, they have means of producing energy using local natural resources, like agricultural waste.
"Farm to Flame", the startup Jyamfi co-founded with Will McKnight at Syracuse University this year, is developing a feasible solution for those who have agricultural waste abundant enough to generate electricity. Farm to Flame is giving larger scale farmers a means of profiting off waste by bringing electricity to a population without.